LIFE SKETCH OF
PROF. DR. IAJUDDIN AHMED
HON'BLE PRESIDENT
THE PEOPLE'S REPUBLIC OF BANGLADESH
1. Name

Professor Dr. Iajuddin Ahmed

2. Father's Name :

Late Moulvi Ibrahim

3. Date of Birth :

01 February 1931

4. Wife :

Dr. Anwara Begum
Professor, Department of Zoology, Dhaka University;
Former Chairman, Department of Zoology and Provost, Shamsun Nahar Hall, Dhaka University.

5. President of the Republic :

Submission of nomination papers on 4 September 2002.
Bangladesh Election Commission declared him elected unopposed as President of the Republic on 5 September 2002.
Took oath as President of the Republic on 6 September 2002.

6. Address :

Present: Bangabhaban, Dhaka.

Permanent : Vill.- Nayagaon; P.O. and District - Munshiganj.

7. Education :

Matric: Munshiganj High School 1948;
I. Sc (1st Div.) Munshiganj Haragonga College 1950;
B. Sc. Dhaka University 1952;
M. Sc. (Soil Science, 1st Class) Dhaka University 1954;
M.S Wisconsin University, USA, 1958;
Ph. D Wisconsin University, USA, 1962.

8. Profession :

Assistant Professor, Department of Soil Science, Dhaka University 1963;

Associate Professor, Department of Soil Science, Dhaka University 1964;

Professor, Department of Soil Science, Dhaka University 1973;

Provost, Salimullah Muslim Hall, Dhaka University 1975-83;

Chairman, Department of Soil Science, Dhaka University 1968-69 and 1976-79;

Dean, Faculty of Biological Science, Dhaka University 1989-90 and 1990-91;

Chairman, Public Service Commission 1991-93;

Member, Senate, Syndicate, Academic Council and Board of Advance Studies, Dhaka University;

Adviser, Caretaker Government 1991; (in charge of the Ministry of Food and Culture) 1991;

Chairman, University Grants Commission 1995-99;

Vice-Chancellor, State University of Bangladesh 2002.

9. Visiting Professor :

Cornell University, USA, 1983;

German Technical University, Berlin;

Research Centre Buentehof, Hannover, Germany, and
Gottingen University Germany, 1984;

Uppsala University Sweden 1984.

10. Research and Publication :

125 research papers published in newspapers and journals at home and abroad. Of them 48 research papers published in foreign journals. Conducted research on process of salinity on paddy plants in coastal areas. Selected high yielding paddy in the coastal belt of Bangladesh and identified the influence of salinity in the soil in different time. Invented a process of preserving nutrient in the soil for long time and supplying them as per requirement of plants. This invention brought for him laurel in the United States.

11. Organisational Activity :

Member, Federation of University Teachers' Association, Dhaka University.

President, Teachers Association and Convenor of Combined Teachers Movement, 1990

12. Awards :

Ibrahim Memorial Gold Medal 1987-88.

Srigyan Atish Dipankar Gold Medal 1990.

Crest (ĎADAPHOS') 1991.

Ekushe Padak (Education) 1995.

13. Member :

International Soil Scientist Association.
Indian Soil Science Association.
Soil Science Association of Bangladesh.
Asiatic Society.

14. Delegate :

As a member of Bangladesh Delegation attended 49th Regular session of UN General Assembly in New York in 1994 and addressed the Session on Palestinian Refugees as well as Global Trade and Development.
Visited Universities of Australia and Malaysia as President of the University Grants Commission Delegation in 1998.

15. Social Service :

Life member of various educational and social welfare organizations. Respected as a language veteran, an ideal educationist and a researcher.

16. Children :

Eldest daughter: Susan Ahmed, studying Ph. D. in USA; married.

Eldest son: Adam Ahmed, serving in USA; married

Youngest son: Imtiaz Ahmed, serving in Montreal, Canada; unmarried.
LIFE SKETCH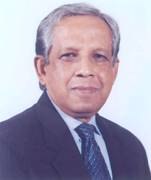 Dr Fakhruddin Ahmed
Hon'ble Chief Adviser of
Non-Party Care Taker Government
of
the People's Republic of Bangladesh
Dr. Fakhruddin Ahmed took the oath of office as Chief Adviser of the Care Taker Government of the Peopleís Republic of Bangladesh on 12th January 2007. Prior to this appointment, he worked as Chairman of Palli Karma-Sahayak Foundation (PKSF) from June 2005 to January 2007. PKSF is the largest apex find for micro credit in the world, currently providing financial and institution-building assistance to over two hundred micro-finance institutions. From October 2001 to April 2005, Dr. Ahmed served as Governor of the Bangladesh Bank.
While he was Governor, Dr. Ahmed introduced wide-ranging reforms in the conduct of monetary and exchange rate policy, in the development of new financial markets (bond market) and financial instruments (securitization), and in the operation of the financial system. The financial sector reforms included stronger corporate governance measures at the board level and also on internal policies, processes and structures within the banking industry and for non-bank financial institutions. Other significant reforms undertaken during his tenure included strengthening the capacity of the Bangladesh Bank. Dr. Ahmedís major achievements included : (i) floating the exchange rate with minimal volatility, (ii) introducing interest rate flexibility and bringing down the interest rate substantially, which in turn contributed to a significant increase in industrial investment, (iii) introducing major corporate governance measures for the first time in the Bangladeshi corporate sector, and (iv) making the Bangladesh Bank an effective regulator and enforcer. The reforms implemented during Dr. Ahmedís tenure contributed to macroeconomic and financial sector growth and stability in a major way.
Previously, Dr. Ahmed served for over twenty years at the World Bank, where his work focused on macroeconomic issues as well as on other sectoral and policy issues related to development. During his years at the World Bank, he worked across a number of countries in South Asia, East Asia and Africa.
Prior to joining the World Bank, he served for fifteen years in the erstwhile Civil Service of Pakistan and in the Government of Bangladesh, lastly as Joint Secretary, Economic Relations Division, Ministry of Finance. Dr. Ahmed began his professional career as a Lecturer in Economics at Dhaka University.
Dr. Ahmed obtained the first position in his class (first class first) in both BA (Hons.) and MA in Economics from Dhaka University. He subsequently received another MA in Development Economics from Williams College, USA, and a PhD in Economics from Princeton University, while on leave from his civil service appointment.
Son of a physician Dr. Mohiuddin Ahmed, Dr. Fakhruddin Ahmed was born in Dhaka on 1st May 1940. A widely traveled man, Dr. Fakhruddin Ahmed is married and has one son.
Dr. Iftekhar Ahmed Chowdhury

Honíble Adviser, Ministry of Foreign Affairs
Dr. Iftekhar Ahmed Chowdhury

Foreign Affairs, Overseas Employment and Expatriateís Welfare and CHT Affairs Ministry

Dr. Iftekhar Ahmed Chowdhury, stood First Class First in BA Honours in Political Science at the Dhaka University and also obtained an MA and Ph.D on International Relations from the Australian National University, Canberra. Earlier, he secured a High First Division in Intermediate of Arts, and a place in Matriculation Examination. In the Superior Service Competitive Examination in 1968, he stood first in then East Pakistan and joined the erstwhile Civil Service of Pakistan (CSP) in 1969.
Throughout a career that spanned across a period of nearly 38 years, Ambassador Chowdhury held many senior positions in the government including that of Ambassador to Qatar (1994-1996), Ambassador and Permanent Representative to the United Nations in Geneva (1996-2000), and Ambassador and Permanent Representative to the United Nations in New York (2001-2007). He has been a Secretary to the Government. He also had concurrent accreditation to the Holy See (Vatican), Chile and Peru as Ambassador.
During his long stints in Geneva and New York, he had been President of the Conference on Disarmament, Chairman of the WTO Council on Trade Policy Review, WTO Committee on Trade and Development, Chairman, United Nations Information Committee, Chairman, Population and Development Commission, Vice Chairman, Human Rights Commission, and Vice President of the United Nations General Assembly, among other positions. He had been actively associated with the United Nations reform process as a Facilitator appointed by the President of the United Nations General Assembly.
His contributions as a global diplomat were recognized by the New York City Council when in a Proclamation in 2003, Dr. Iftekhar Chowdhury was named "one of the world's leading diplomatic leaders". He was also awarded a Knighthood of the Order of St Gregory the Great by the Pope. He and his wife, Mrs. Nicole Chowdhury, have one daughter, Noureen Fink Chowdhury, currently with the International Peace Academy in New York
COUNCIL OF ADVISERS
Chief Adviser

Dr. Fakhruddin Ahmed
Cabinet Division, Establishment Ministry, Home Ministry and Election Commission Secretariat.

Advisers

Barrister Mainul Hosein
Ministry of Information, Law, Justice and Parliamentary Affairs (a) Parliament Secretariat, Housing and Public Works Ministry and Land Ministry.

Dr. A.B. Mirza Azizul Islam
Ministry of Finance, (a) Finance Division, (b) Economic Relations Division, (c) Internal Resources Division, Planning Ministry, (a) Planning Division, (b) Implementation, Monitoring and Evaluation Division, Commerce Ministry and Post and Telecommunications Ministry.

Maj Gen (retd) MA Matin
Ministry of Communications, Shipping Ministry, Civil Aviation and Tourism Ministry and Liberation War Affairs Ministry.

Tapan Chowdhury
Ministry of Power, Energy and Mineral Resources, (a) Power Division, (b) Energy and Mineral Resources Division, Food and Disaster Management Ministry, Science, Information and Communication Technology Ministry and Youth and Sports Ministry.

Geeti Ara Safiya Chowdhury
Ministry of Industries, Textiles and Jute Ministry, Social Welfare Ministry and Women and Children Affairs Ministry.

Ayub Quadri
Ministry of Education,Primary and Mass Education and Cultural Ministry.

Maj Gen (retd) Dr A S M Matiur Rahman
Ministry of Health and Family Welfare, Water Resources and Religious Affairs.

Md Anwarul Iqbal
Local Government Rural Development and Co-operative Ministry, (i) Local Government Division (ii) Rural Development Co-operative Division and Labour and Employment Ministry

Dr Iftekhar Ahmed Chowdhury
Foreign Affairs, Overseas Employment and Expatriats Welfare and CHT Affairs Ministry

Dr Chowdhury Sajjadul Karim
Agriculture, Fisheries and Livestock and Environment and Forest Ministry